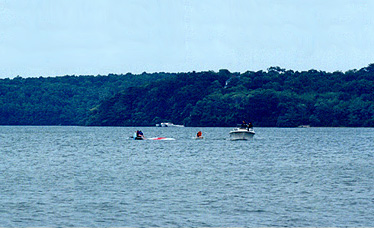 Dad, Jesse, and Ben took both sailboats to Long Pond.
When I arrived to take some pictures neither the red or blue
sail was in sight. I finally saw the red spot on the water - took a telephoto shot and continued scanning the lake for the blue sail,
wondering why Bill wasn't there helping the boys. As I looked I
became aware that the boat seen passing the downed sail was approaching shore -- towing---OH, MY !